Keeping Up with Camp
2021 has quickly become the year of bringing camp back. While 2020 was the year of an empty camp, field trips, weekends, day camps, and more have kept us busy with providing a great space to make lasting memories. Here's what we've been up to:
The return of the weekend! YMCA groups, Cub Scouts, and other private organizations have taken advantage of the huge space we provide for our tenting occupants and taken the weekends back with hikes, zip-lining, paintball, our massive playground, and even a barbecue or two. We are continuing to offer tenting spots to families for the weekends, so make those reservations today! More info on weekends here!
Take your learning outside with our field trips
Field Trips at IHC have also become a new favorite of mid-week programming. This is an awesome chance to bring the fun of camp mixed with a little learning--and a huge playground, too--that gets your students back into nature. We offer lots of class options and all the fresh air you could want. Check out our field trip and picnic options here!

Summer is back, get excited!
Spring and Summer are also well on their way at camp with the opening of our 6th-Grade Camps and Gold Rush Days. With a modified schedule and an excited staff, we're ready to host schools and private groups alike as they explore our 86-acres, encounter God in creation, and see history come alive. For 6th Grade Camps, click here for more info. For Gold Rush Days, click here for more info. You can also join us as we go ALL IN with camps. We'll offer 3 weeks of camps for kids: 2 weeks of youth camps, and 1 week of junior high camp.* For more info on summer camp, click here.
All of these expanding preparations mean that our attention is on providing for our amazing seasonal programs. As a result, we're finishing out Day Camp on March 26th, just as Easter Break starts. While it has been a wholly unique chance to impact the lives of local kids, our focus remains on reaching kids for Jesus through camping. With schools returning to normal (or some semblance of it) following Spring Break, IHC has decided to focus on what we do well: group camps and adventurous experiences.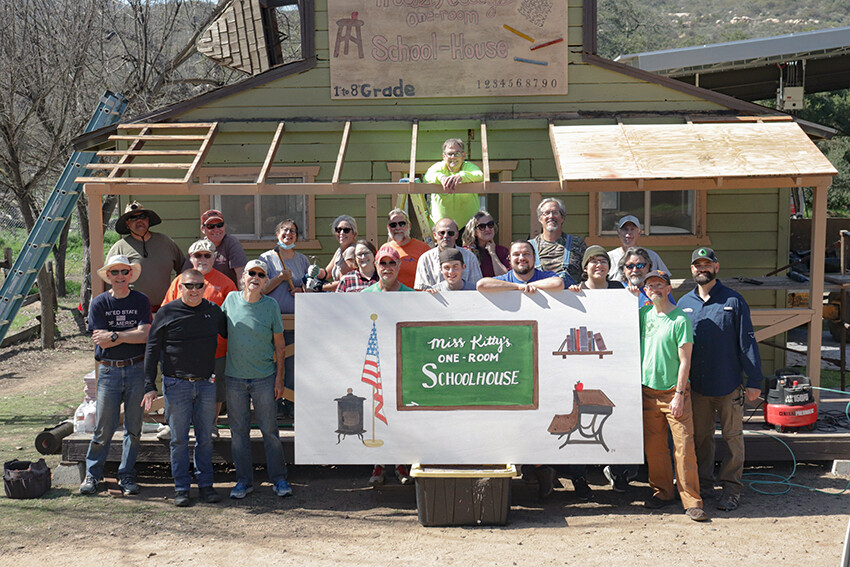 Grace Fellowship in front of Cabin 12
We've also been blessed by the willingness of others to provide for camp. Folks all over who have been affected by camp have worked to financially support the programs and ministry we run. Whether through their ongoing donations, one-time gifts, or gifts-in-kind, every little bit has given us the chance to continue reaching kids for Jesus through camping. Grace Fellowship in San Diego took the chance to start our Adopt-A-Cabin program, giving their time and energy to renovate one of our beloved accommodations. Check out our Adopt-A-Cabin program here! The time to help is not over. Whether elbow grease or financial support, IHC needs your help to continue the ministry of reaching kids for Jesus through camping. Please consider an ongoing donation and click here to give!
From all of us at Indian Hills Camp to all of you, thank you for being a part of what God is doing at camp. We're grateful for your prayers and support, and we look forward to bringing more good news of camp affecting change with the Gospel.